Sydney Acrobatics School is excited to offer our newly created innovative "ACROPLAY" weekly Adults Acrobatics Classes at Sydney City,
Class Groundwork Demo
Varied Demos
A new innovative style of acrobatics training for everyone: ACROPLAY, a blend of Acrobatics, Yoga, Dance, Gymnastics, Flexibility secrets and Secrets of Circus teaching and targeted conditioning to create a new style of intensive, result driven training, taught by acrobats, that is like no other and importantly very much fun too.
City Venue / Surry Hills
Mondays 7:15pm – 8:45pm (then optional playtime after – 9:30) Hiscoes Fitness Centre Sydney City www.hiscoes.com.au
(spots available)
Top floor 525 Crown St , Surry Hills, between Devonshire and Cleveland streets, 10 mins by car from Bondi
CLASS NAME HISCOES MONDAY ACROPLAY :  5 week terms – Spots available
INVESTMENT
   : $175 per term of 5 workshops ($35 per session for TERM people, or pro-rata for specific dates present organised in advance – $40 otherwise).
(*Please make sure you understand conditions of Term Class bookings – detailed on 'Conditions' page)
(Please check iac@sydney.net for dates of terms, but normally ongoing, and on enquiry may be available pro-rata if join mid-term or have prior known dates of availability. Please read Conditions of what a TERM is if not fully committed to coming to classes on a weekly basis). Please note: you can join any week whatsoever, this is not an issue at all, but everyone pays for the remainder of classes left in each 5 week term – basically so we can know to fill any empty spots each week – it is normally a limited number class of people, so everyone can get the most out of the class and everyone progresses quickly.
ENROLMENTS: To enrol, please provide contact details (Name, e-mail & phone number) to John on iac@sydney.net Please register soon as places are strictly limited, but we can organise pro-rata payment for missed classes if you let us know in advance.
Class Structure: 1. HANDSTANDS We will be focussing on what it really takes to achieve great handstands without pulling any punches. We have spent decades guiding people with private lessons to achieving their goals in handstands from competing gymnasts, circus performers, yoga instructors, professional dancers, contortionists, stunt people and other professional trainers.   We will be focussing on exactly what it will take for everyone to achieve awesome handstands and improvements on their handstands, posture correction, background training required, alterations in their technique required, and the fast methods that actually work. But also if anyone can already do handstands we will be taking them further – this is a passion,. we have an amazing array of dazzling handstand variations to share
with everyone motivated.
2. ACROBATIC YOGA, ACRO-DANCE & ACRO-BALANCE – Every week we will be taking people through a specially selected set of innovative moves specially developed for our students.
3. TUMBLING and FLIPS everyone can do – Develop handsprings, headsprings, backflips, sommersaults in a supportive amusing fashion that everyone can progress at their own pace.
4. Circus ACROBATICS and ADAGIO – Group work to achieve performance level moves.
5. FLEXIBILITY This section of th class will change your way of thinking about flexibility and will definitely improve the way you go about achieving it. We will be sharing
with everyone the wisdom of particular physical yoga methods, the discipline and grace of particular Dance methods, the science of the high level methods and avoiding injury used by competing gymnasts, but also in particular the secrets used in the circus to get some immediate remarkable results that can be used by everyone.
Fundamentals
ACROPLAY or Partner Acrobatic Yoga involves partner assisted acrobatic movements usually with one partner lying on their back on the floor and the other partner elevated off the ground performing a range of balances, stretches, rotations and aerial movements.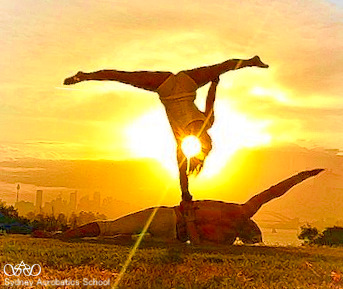 History
This style of acrobatics is an evolving sport. It has been practiced in many guises and forms over the years and overlaps a number of diversified sports and schools – and that's the fun of it.
We practice the purely physical side of Partner Acrobatic Yoga and the range of movements and balances that can be created with this simple low to the ground genre.
Most people with a reasonable level of fitness will enjoy the challenges of this practice.
Who would get the most benefit out of it ?
– Friends and Partners who would like to practice safe and fun acrobatic movements at   home
– Yoga practitioners who are looking to get something more from their practice
– Teachers of Acrobalance, Yoga or Gymnastics who would like to expand their practice
– People who are looking to keep very fit and strong in a new fun way
– Adagio practitioners to develop a trust and an extensive range of groundwork to work with either as part of their performances, or to use as an ideal low-level way to practice higher hand to hand skills
– Parents who want to have fun with their children
– Husbands and Wives or just friends who would like to expand what they can do together as a sport
Level 1 is for everyday people and yoga enthusiasts to take your postures, flexibility, balance, core strength and general abilities a big step forward regardless of initial level.
Level 2 is for those already a little more advanced or athletic, or just those a little more adventurous in what they want to achieve. Everyone can do it with practice and the correct instruction.
Level 3 is often for experts, eg Gymnasts, Acrobats, Advanced Yoga Practitioners and Teachers, Professionals and Performance level, however for those who really want to try movements from this level, they can still experience it with the assistance of the appropriate instructor and/or experienced partner.
We teach all levels in parallel so everyone can work at their own level and can be challenged appropriately at all times in their development.
Acrobalance for Yoga utilises a number of well known floor level balances and movements from the Acrobalance world, and continually extends movemets and adds innovative and fun ways to twist, tumble, balance, pitch and flip your partner.
NB: We do not utilise Massage or Healing ideas, we are purely focused on students attaining acrobatic skills.
Practicing for over 15 years, we are professional acrobats, gymnasts, and performers and fully trained and qualified Australian Instructors.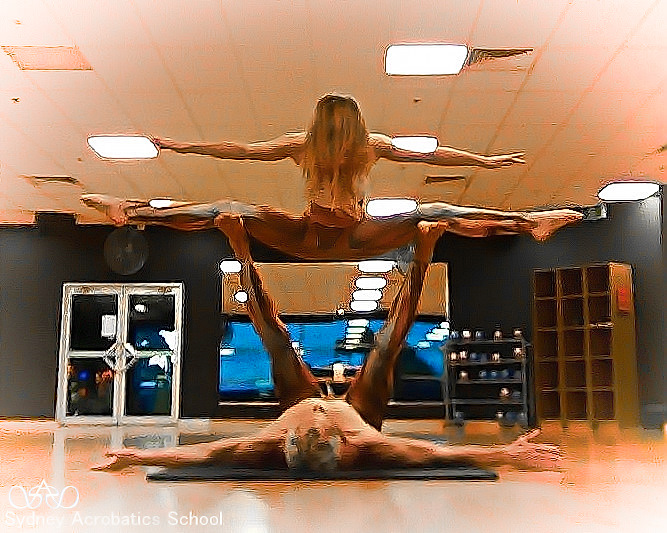 Instructional Acrobatic Yoga E-Books Now Available !!!
Comprehensive Step by Step Visual Guides
Each Book Comes on Fully Insructional CD with fully included Video Examples
_________________________________________________________________________
Acrobatic Yoga E-books and Videos
Beginner $45, Intermediate $45, Advanced $45 – all 3 $99 + p&p
Please contact iac@sydney.net for our video examples of a) Intermediate and b) Advanced Acrobatic Yoga Rotations
ACROPLAY – Advanced, High Ninja Star
ACROPLAY – Advanced, HK Turns
ACROPLAY – Advanced, Icarian Pancakes
ACROPLAY – Advanced, Pop Cartwheel to Handstand
ACROPLAY – Advanced, TBT Pops
ACROPLAY – Handstand Popping
ACROPLAY – London Spin (aka Coin Drop / German Wheel)
ACROPLAY – Varied Cartwheel entries – Intermediate & Advanced
ACROPLAY – Vegetable Rotisserie
ACROPLAY – Whirly Bird